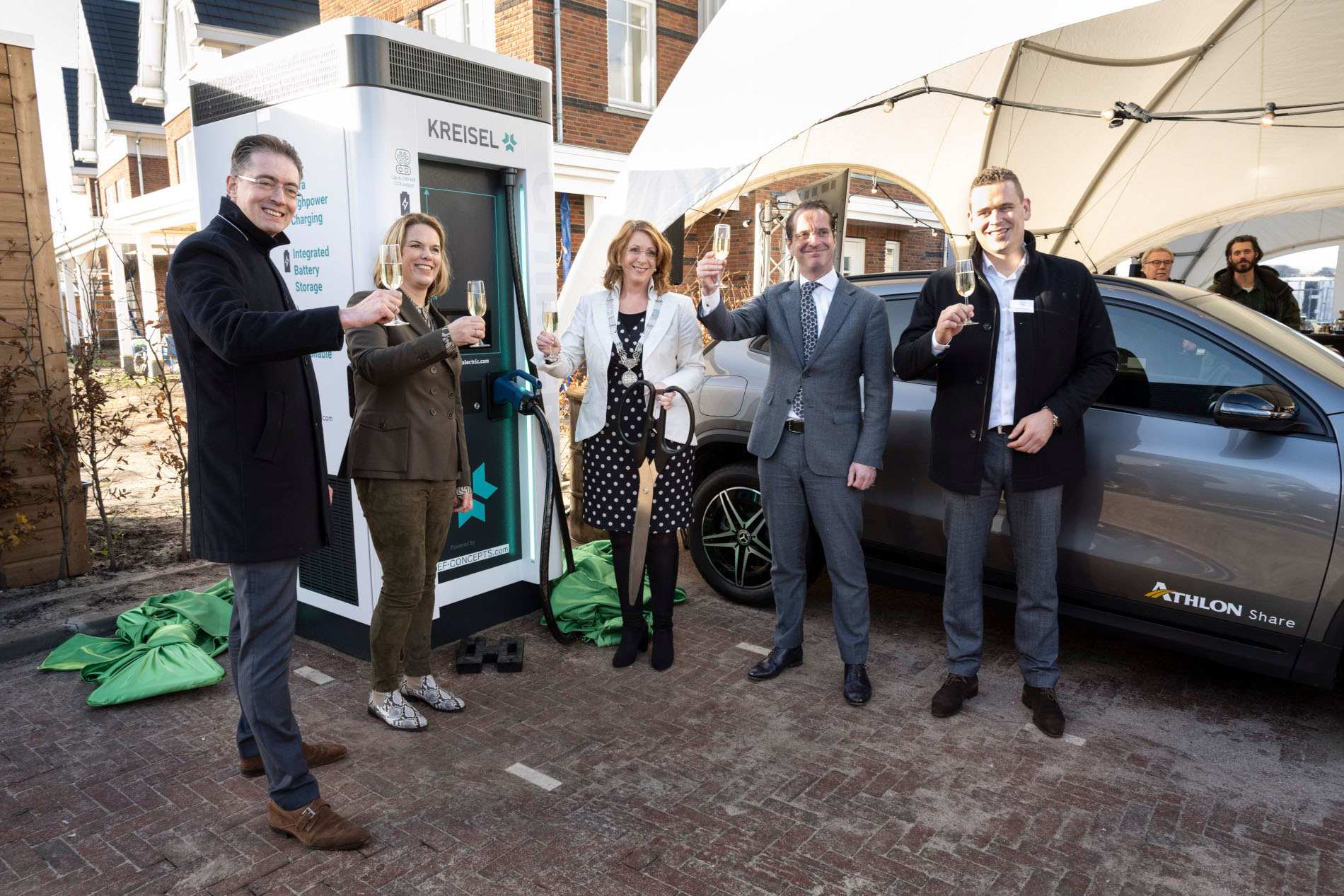 EF Concepts in Hooghkamer Voorhout
On November 17 2021, Carla Breuer, Mayor of Teylingen, and Joep Rats, Director of Policy & Association of Bouwend Nederland, gave the starting signal with the unveiling of the battery-powered fast charger, also known as the neighbourhood battery. The homes generate more energy on an annual basis than they consume. The neighbourhood battery stores the solar power generated and releases it to the electric sharing cars. This is our response to energy transition and changing mobility needs. A first for the Netherlands!
With the cutting of the ribbon and words of praise, Mayor Carla Breuer and Joep Rats launched energy-rich living in Hooghkamer Voorhout. Here we have realized 17 sustainable Plus-on-the-Meter homes. The roofs have integrated solar panels, which means that over the year they generate more solar power than they use. The houses are interconnected in a smart grid and can exchange energy thanks to a smart energy management system. The homes supply the surplus of solar power generated to the battery-driven fast charger. This acts as a buffer and storage and releases the stored energy to two electric share cars. These cars are in a central location in the neighbourhood and thus, with the neighbourhood battery, also have their own fast charging station.
Nationwide deployment for every new housing estate
The energy management software of EF-Concepts controls the energy flows in the neighbourhood and thus ensures balance in the network. The smart energy management software advises and monitors when energy is available, cheap and expensive. And also determines when energy is parked in the neighbourhood battery, the two electric shared cars, the homes themselves, or sold to the market. It really couldn't be simpler!
'This concept can be copied for every new housing estate in the Netherlands,' said Yvonne van der Hulst. 'A new housing estate on hold due to grid problems? Put battery-powered fast chargers there in combination with EF-Concepts' smart energy management software and you have a solution to the grid problem. The strength of a smart neighbourhood like this is that buffering solar energy helps to smooth out peak loads in the grid. This is unique and a first for the Netherlands. With this concept we have the answer to the energy and mobility transition. How cool is that!